Looking for a wrecker insurance company? Don't get 1 quote. Get 3!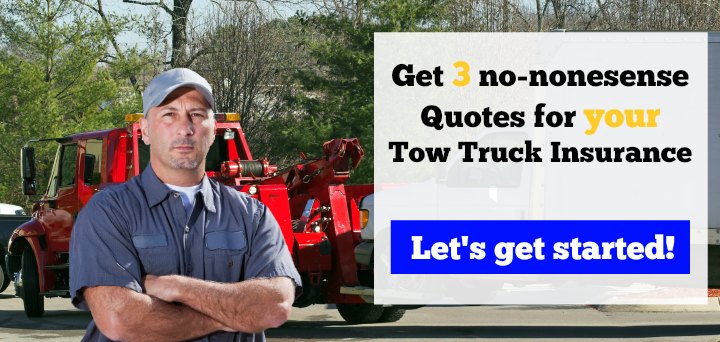 Finding multiple wrecker insurance companies is tough. We've made it easy.
Just fill out 1 quick form and we'll connect you with 3 agencies that will compete for your business. Easy!

Compare Wrecker Insurance Companies
Step One: Gather Your Business Information
Before an agent can compile a quote, he first needs to learn a few details about your wrecker business. The most important piece of information: What services do you provide? Are you roadside assistance, auto salvage, rotational towing, repossessions, or an auto body or repair shop? He'll then need to know how many wreckers you own and whether you keep towed vehicles on your own lot. Other information you should have ready:
Schedule of vehicles you own (e.g., vin numbers, make, model, year, single, double, or triple axle)
Schedule of drivers (CDL experience, age, MVRs)
What percentage of your business is represented by towing
When you're open (e.g., 24-hours)
Step Two: Contact Multiple Agents
Once you have all your information ready, it's time to get in touch with your agents. As we mentioned above, the cheapest and quickest way to find wrecker insurance agents is through an online quote request, but there are other ways too. You can usually find insurance agencies offline by thumbing through your phone book. You can also ask other wrecking businesses who they use.
You should use at least two agencies, but ideally three. Three agents will give you an almost complete view of all wrecker insurance companies available. (After three agents, you get diminishing returns since the wrecker insurance companies these agents represent will begin to overlap)
Step Three: Receive Your Quotes
Your agents will send you your quotes. You should feel no pressure in committing right away to a specific insurance company. Instead, tell your agent that you need some time to review your options. Don't worry, you won't offend him. This will give you time to review his offer and compare it with the other ones you receive.
Step Four: Review the Companies' Credit Ratings
While reviewing these offers, be sure to run the prospective wrecker insurance companies through an auditing service like Moody's or A.M. Best. These two services are the best at recommending trustworthy insurance companies and flagging those that aren't as reliable.
Step Five: Look Over Your Coverage Options
You'll want to see which coverages are included in your policy and determine if you're missing any important coverages. Talk to your agent about these coverages in particular, as they pertain to the wrecker industry:
Towing Auto Liability
Physical Damage Insurance
Garagekeepers Legal Liability
On-Hook Towing Insurance
Cargo Insurance
Medical Payments Insurance
Workers' Compensation Insurance
Liability Umbrella
Step Six: Get All Additional Details You Need
By this point, you should have a pretty good idea of which insurance company you like. But before you ultimately commit, there are a few other details you should consider. Ask your agent:
Does this policy include early cancellation fees?
Do you offer OEM repairs?
Do you offer a combined deductible?
Do you have 24-hour claims service?
Step Seven: Choose a Payment Plan
Depending on the needs of your business, you'll benefit from either a month-by-month, quarter-by-quarter, or year-by-year payment plan. Generally, the more you pay your wrecker insurance company upfront, the bigger a discount they will give you.
Step Eight (Optional): Revise Coverage Regularly
Many wrecker insurance policies will creep up in cost every year. Insurance companies seem to increase premiums in hopes that their customers won't notice or won't care. To get the best possible deal on insurance, it's important to renegotiate a plan every few years. It doesn't have to be that difficult: services like ours make it easy to compare several agents at once. See for yourself!