Looking for low cost tow truck insurance? Don't get 1 quote, get 3!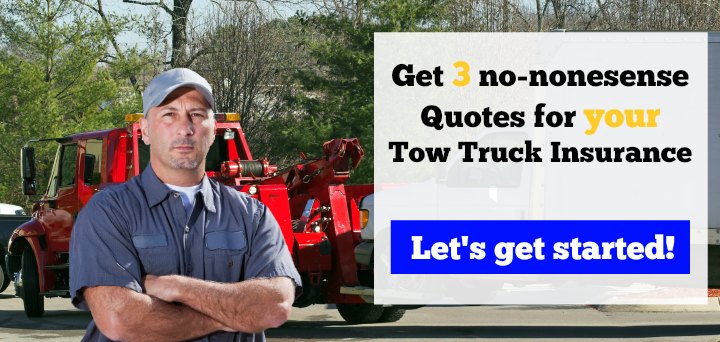 To find the lowest costing tow truck insurance you have to shop around. We've made that part easy. Just fill out 1 quick form and we'll bring you 3 agents to compete for your business. Simple!

What does Tow Truck Insurance Cost?
Factors that influence the price
The premium you'll pay for your insurance will vary, because every business is different. For example, the insurance company will look at the number of employees and their driving records, the type of business you operate, the location of your shop, and the level of on-site security you provide.
The premium will also change based on the payout limits and deductibles that you select, because higher deductibles and lower payouts will reduce your premiums. Tow truck insurance companies consider a wide range of factors when calculating the costs of your tow truck insurance premium, including:
Your type of towing operation. Do you tow for your own garage? Do you contract out to different motor clubs or auction houses? Do you specialize in repossessions?
The make, model, and worth of your vehicles. Towing vehicles are rated on many things, including make, model, and their value. Are you working with a fleet of shiny new Peterbilts or late model Fords?
Size and type of towing vehicle. Do you tow with flatbeds? Single, double, or triple axels? Light duty or heavy duty wreckers? Rollback carriers or underlift wreckers? As you might suspect, bigger vehicles will mean bigger premiums.
The number of states and cities you operate in. Statistical data for each metro area you cover is used to calculate the risks and liability for your particular business.
Types of on-hook vehicles. Is your average driver more likely to be towing an abandoned vehicle headed to the impound lot, or a luxury yacht headed to the marina? Do you tow motor homes, heavy equipment, trailers, motorcycles, or boats? Insurance premiums can be influenced by the type of vehicles that you typically tow.
The size of your staff and fleet. How many drivers do you employ? How many trucks are you likely to have on the road at any given time?
Driver records. If your drivers have any serious moving violations on their Motor Vehicle Records from the last 36 months, your premiums could go up.
Business hours. Extended hours of operation mean you and your fleet are on the road and at risk more frequently. Therefore, 24 hour towing operations will pay more for insurance.
What Can You Do to Keep Your Premiums Low?
There are a few best practices that can substantially reduce the cost of your policy, such as:
Carefully screen all new hires. It is essential that you know the driving history of every employee prior to offering them a contract. Failure to do so could result in insurance premium spikes if they have specific driving infractions on their record.
Only hire experienced, commercially licensed drivers, when possible. The number of years an individual has been driving, towing, and if they hold a Commercial Driver's License (CDL), can greatly affect the cost of your insurance policy in a positive and cost effective way.
Finally, here are a few tips for finding the most affordable tow truck insurance plan possible (and snagging an extra discount or two to boot.)
Shop around. Get at least three insurance quotes from tow truck insurance providers before making a decision.
Leverage your business reputation for lower rates. If your business is well-established, has been in operation for several years, and has a favorable claim history, you could be looking at better rates.
Ask about seasonal insurance plans. Getting different types of coverage plans for high-traffic and low-traffic seasons could save you money in the long run.
Find out the most cost-effective way to pay. Ask each provider if they offer discounts for certain methods of payment, such as paying for several months up front, or scheduling a regular monthly automatic electronic funds transfer.
When shopping for an insurance provider, it's important to look for an insurer who is solely focused on providing insurance for the transportation industry, particularly one that has been exclusively working with towing services and companies.
At Tow Truck Insurance HQ we can help you find affordable and competitive rates for your commercial towing business, by bringing you 3 agents to compete for your business.