Need coverage for your towing company? Don't just get 1 quote, get 3!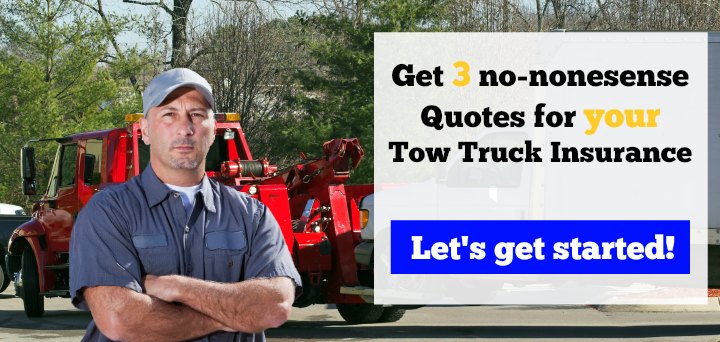 As a business-owner, it's your responsibility to protect your towing company against unforeseen circumstances. Getting good towing insurance coverage is the best way to do that. This guide will teach you everything you need to know about commercial insurance.
Where to Find Towing Insurance Coverage
Unlike with personal automobile insurance companies, the best towing insurance companies aren't household names. Most towing business owners don't know where to look to get the best coverage.
Your best route is to use a service, like the one offered on this website, that gets you in touch with multiple insurance agencies at once. The agents will each send you a policy coupled with a quote. From there you can choose the policy that works best for your business.

Which Insurance Coverages Towing Companies Need
Only you can figure out which insurance coverages your towing business requires. Below are the most common coverages—each has its own purpose and might be a smart investment for your company. And remember: talk it through with your agent—some of these coverages are legal requirements in many states.
| | |
| --- | --- |
| Coverage | Description |
| Towing Auto Liability | Coverage that protects you when you're at fault during an accident. It's the law that every tow truck you own must have an auto liability policy attached. This coverage includes Property Damage (covers damage done to others' property) and Bodily Injury (covers injuries). |
| Garagekeepers Legal Liability | Coverage that protects the vehicles held on your property after a tow. |
| On-Hook Towing Insurance | Coverage that protects any vehicle towed by one of your trucks while it's hooked up. |
| Physical Damage Insurance | Coverage that protects your vehicles from accidental damage, i.e., this coverage pays for repairs after an accident. It includes Collision (covers damage during a collision on the road) and Comprehensive (covers things like fire, theft, and vandalism). |
| Cargo Insurance | Coverage that protects your cutomers' possessions left in their vehicles. If a customer's possession is lost, stolen, or damaged, this coverage kicks in. |
| Medical Payments Insurance | Coverage that pays for medical expenses if anyone, driver or passenger, is harmed while riding in one of your tow trucks. |
| Workers' Compensation Insurance | Coverage that pays for medical expenses and lost wages for your employees if they're hurt on the job. Legally required. |
| Liability Umbrella | Coverage that protects you even when an accident exceeds your existing policy limits. |
What Your Agent Needs from You
Whether you request a quote online or call up an insurance company directly, they will need some information about your business, including:
Where your business is located
How long you've been in business
Whether you keep towed vehicles on your own lot
What services outside of towing you provide and how much those services contribute to your overall income
The make, model, and milege of the tow trucks you own
Which state and federal safety programs and security measures you follow
Your driver qualification files
The last three to five years of your loss run history
Don't worry if you're missing some of this information. Your agent will help walk you through any information you're lacking.
How to Reduce the Cost of Your Towing Insurance Coverage
It may be obvious but the best way to save money on your towing insurance coverage is simply to run a safe business. Now there are several concrete steps you can take to prove to an insurance agent that your business goes above and beyond when it comes to safety. Insurance companies offer discounts to businesses that:
Offer safety manuals and employee handbooks
Use GPS systems in their trucks
Have security cameras surveilling their property.
Another fairly obvious way to save is to shop around. The more insurance companies you contact, the likiler you are to find the best deal.